Plant Planet was a multiplayer, mini-game based party game which had players compete to grow the most crops in a limited amount of time. Set on a space colony, players need to ride their water-lander (watering moon lander) to victory. I worked as Technical Artist, VFX Artist, Prop Artist, and UI Programmer.
​
Unfortunately the Plant Planet project had to be shut down after three months of development and was left in an unfinished state. These screenshots are in progress shots taken during the creation process.
​
Write-Up (by producer):
https://thetrento.com/plant-planet
​
This Cel Shader was developed for both 2D or Not 2D and Plant Planet.
The cel shader was actually easier to make than expected. I first had to learn what a CLUT was (Color Look Up Table) and how banding worked, but after that it wasn't too bad! My first ones I did in shades of blue and because of the setup of the shader, it did indeed cel shade it, but didn't take into account the true colors of the objects.
Once I accounted for the base color, I started to create more and more CLUTs with different amounts of bands, and different proportions of each color. One of the simplest (yet most important) things I had to learn was to not include straight black or white as it would drastically skew the dark shadows and bright highlights of the cel shader to being purely black or white. I ended up creating about 2 dozen CLUTs to get to one where I was happy.
From my experimentation with outline shaders for one of my other games 2D Or Not 2D, I knew the Plant Planet outline shader had to have a different architecture than my full outline shader. For this shader, I just needed to get the absolute outline without worrying about inner lines. This meant I needed to use the Custom Depth node in UE4. By setting the custom depth to different numbers, I could change the color of what the outlines would be (for example if a plant was watered, it would then be outlined with that player's color).
Particle Effects are integral to Plant Planet. In Plant Planet is tasked with competing against the enemy in a waterlander (moon lander with a watering system) to see who can water the most of the field in time. The waterlander is propelled by water as well, so the water shoots out as propulsion. My main goals with this effect were to make it feel like the water is being shot out of a fire hose. I made the body of the particle effect a more solid stream while having tiny droplets fly off at the end. I also had it start to tail off toward the end because there would be less pressure there than towards the spout. At the start of the effect I created a small mist to help further the idea that this water is coming out as quickly as possible.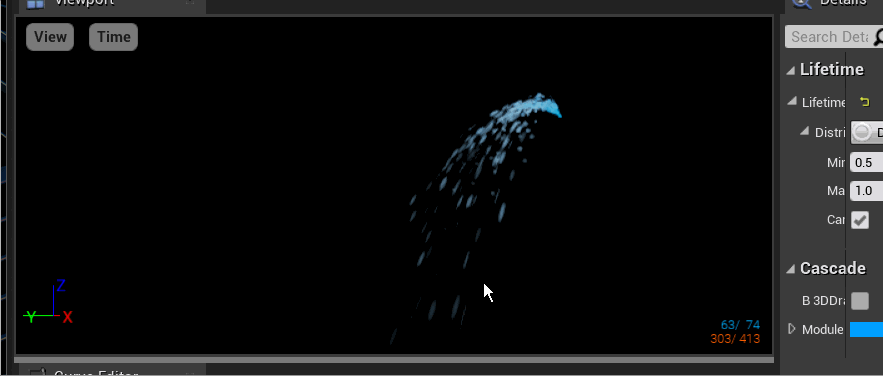 Since a player watering a field is a main mechanic of Plant Planet, the sprinkler is an important effect. While the water propulsion effect had to feel like the water was being fast and forced, the sprinkler had to feel almost like the opposite. It had to feel like the water was propelled just a tiny bit, and then have a large fall off. The drops start off larger and get smaller while falling and eventually fading out of existence. I wanted it to be a more gentle sprinkle, similar to water coming out of a garden watering can.
Although I was mostly focused on shaders and effects, I assisted our 3D modelers in creating props for the game along with our producer Trento. Here are some of the assets I created that eventually went into the game. Any textures here were created by Nitesh Sridhar.